Mon., Jan. 10, 2011, 9:35 a.m.
Rocky: Wassmuth Showed Way Out
This will not be an easy task. The demonization of political opponents has turned into a cottage industry of hate that benefits many. And the emotions of regular people have been raised to a frenzy by the politics of fear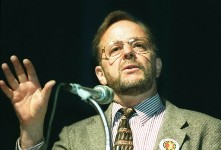 from all sides of the debate. But Idaho can offer a model for taking on the worst elements. No matter what the motivation of the shooter, who killed six and wounded Giffords and more than a dozen others, the incident has prompted a national discussion that is long overdue. There was a time not long ago when Idaho was viewed as the center of the right-wing hate movement in the United States. But even as our politics has become more conservative, we have excised the hate-mongers and our image as a refuge for neo-Nazis. We had become a base for these people because of our tolerance and our basic "leave-us-alone" attitude. But when we as a state realized where it had taken us, we shifted gears led by leaders like Phil Batt and Bill Wassmuth/Rocky Barker, Idaho Statesman. More here. (SR file photo of Bill Wassmuth at 1997 NIC Popcorn Forum)
Question: What have you done personally as a blogger and online commenter to reduce hateful rhetoric and inflamed political commentary online?
---
---