Tue., Jan. 11, 2011, 11:25 a.m.
Westboro To Picket Tucson Funeral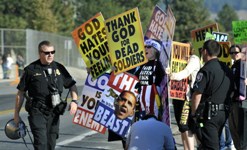 The families in Arizona have suffered quite a bit. But one group wants to make them suffer just a little bit more: Westboro Baptist Church, the church of hate that pickets funerals to highlight its vile attacks, will picket the funeral of the little girl and five others who were killed in Saturday's shooting rampage. Fred Phelps, in an offensive press release you may not want to read in full, announced Sunday he will bring his tiny band of followers, fresh from last month's Elizabeth Edwards funeral, to this wounded city because, "That's how God the avenger rolls," he says/Adam Graham, Adam's Blog. More here. (SR file photo: Dan Pelle, taken during October visit of Westboro Baptist Church to Ferris High & other Inland Northwest stops, including Coeur d'Alene & Lake City highs & North Idaho College.)
Question: Are you surprised by anything Fred Phelps and company does at this point?
---
---