State Supt. Tom Luna said it's his election mandate that's prompting him to push forward with his far-reaching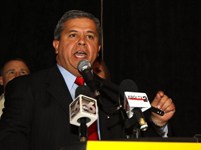 education reform plan. "The urgency that we're moving this with is based on what the governor and I experienced this past year … going from community to community, a very, very rigorous campaign, on top of being a governor and state superintendent at the same time," he said. "The people had a very clear choice, because those who defend the status quo ran very vigorous campaigns on how they thought education should operate now and in the future. The governor and I had a different plan. The people … rejected the status quo"/Betsy Russell, Eye On Boise. More here.
Question: Based on the election results of last November, do you think Superintendent of Schools Tom Luna & the Idaho Legislature have a mandate to overhaul the Idaho education system?