Wed., Jan. 12, 2011, 10:45 a.m.
Palin Calls Attacks 'Blood Libel'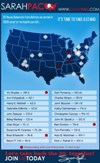 Sarah Palin today accused her opponents of manufacturing a "blood libel" by suggesting her rhetoric and campaign tactics had anything to do with the Arizona shootings. Four days after an incident which left six people dead and critically injured the congresswoman Gabrielle Giffords, Palin released a video statement condemning the attack. She denied that a now infamous campaign map showing Giffords's electoral district in the cross hairs of a gun had influenced the shooter Jared Lee Loughner. In an attack on her accusers, she said: "Journalists and pundits should not manufacture a blood libel that serves only to incite the very hatred and violence they purport to condemn. That is reprehensible"/Matthew Weaver, The Guardian. More here.
Reaction?
---
---