Mon., Jan. 17, 2011, 8:15 a.m.
Huckleberries: Mike Feels Tucson's Echo
The assassination attempt against congresswoman Gabrielle Giffords in Tucson, Ariz., hit home for Coeur d'Alene Councilman Mike Kennedy. While going toward the St. Pius X Catholic Church altar to receive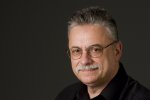 Communion last Sunday, Mike was approached by a troubled woman. She tossed four pages of handwritten ramblings in the pew behind Mike and said "those are for you." In the past, Mike told Huckleberries, "I've shaken my head and recycled her writings, since I genuinely believe them to be deranged. After the events (at Tucson), though, I'm going to drop a copy of this letter off to the police department." As you can see, dealing with unstable individuals isn't simply an academic exercise for Mike. Who concluded: "We have to come up with a better solution in this country to help people who are battling serious mental illness." And everyone said: Amen/DFO, Huckleberries, SR. Full column here.
Question: What do you do when you encounter an unstable individual?
---
---