Tue., Jan. 18, 2011, 8:07 a.m.
American Legion: We Were Left Out
Item: Cd'A: Legion left out of McEuen planning: Group wasn't represented on 21-person team/Tom Hasslinger, Coeur d'Alene Press
More Info: The American Legion said it was left out when it came to planning McEuen Field. They were, city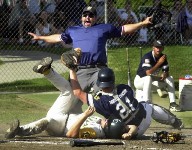 officials said on Monday, but by accident. The American Legion wasn't represented in the 21-person steering committee that comprised various stakeholders in charge of helping craft the conceptual plan for revamping the downtown 20-acre park. An American Legion Baseball representative was appointed, Dennis Spencer, but a breakdown in communication prevented word of planning progress from getting back to the American Legion. (SR file photo: Jesse Tinsley, of a play at home plate involving the local American Legion team on McEuen Field.)
Question: Should the American Legion Baseball field remain on McEuen Field?
---
---