Tue., Jan. 18, 2011, 3:02 p.m.
Johnson: Great Speeches Week
And, even though King made his most famous speech in August, no MLK Day is complete without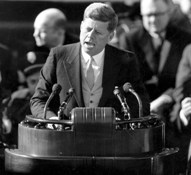 remembering one of the great speeches ever delivered in the English language, his "I Have a Dream Speech" from 1963. This week also marks the 50th anniversary of two other truly memorable speeches -- Dwight Eisenhower's farewell were he warned of the rise of the "unwarranted influence" of the "military-industrial complex" and John F. Kennedy's inaugural where he summoned the nation to "ask not" what the country can do for us. Remarkably these two speeches - delivered just three days apart in January 1961 -- speak to us still across half a century/'Marc Johnson, The Johnson Report. More here. (AP file photo: U.S. President John F. Kennedy delivers his inaugural address after taking the oath of office at Capitol Hill in Washington on Jan. 20, 1961.)
Question: Can you recall a line from a political speech that inspired you to action?
---
---