Fri., Jan. 21, 2011, 3:14 p.m.
Citizens Respond To McEuen Proposal
Councilman Mike Kennedy has compiled a number of reactions to proposed changes to McEuen Field,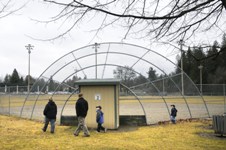 including this one that reads in part: "I think funding is very crucial to this and I believe it should be part of the discussion now. That is so no one is concerned that their taxes will go up at on account of the construction. I think this is very crucial as I noted above. I don't think it is too soon to reveal the sources of the funding, including the bonding authority of LCDC, its 12-year remaining life, and also the other sources of funding (i.e. the Parking Fund reserve, any Water and Wastewater funds that will be used for those improvements, street funds for reconstructing Front Avenue (including impact fees), parks impact fees, and any others I may not have considered. The plan will gain momentum if people actually think (as I know) that there are funds available to make much of it happen." You can read the many other responses here.
Question: Have you bothered to fill out the online questionnaire re: your response to proposed changes to McEuen Field that were revealed earlier this month by Team McEuen?
---
---