Mon., Jan. 24, 2011, 4:24 p.m.
Merrill Ripped For Boat-Launch Letters
Idaho lawmakers called their state parks director on the carpet Monday over letters that were sent to 32,000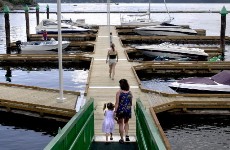 boaters about the possible closure of the 3rd Street boat launch in Coeur d'Alene. State Parks Director Nancy Merrill told the Senate Resources Committee she was just doing her job as required by state law: Standing up for boater access on state waters. But Coeur d'Alene city officials say the city always planned to replace the launch with another one just as good, if it removes the downtown launch as part of a big renovation of McEuen Field into a waterfront park - and that message got lost. "I appreciate that they are looking out for boater access - we are doing the same thing," said Coeur d'Alene Mayor Sandy Bloem/Betsy Russell, Eye On Boise. More here. (SR file photo: Kathy Plonka)
Question: Would you be more open to an alternative boat launch for the current 3rd Street one, if state funds were available to help build it?
---
---