Mon., Jan. 24, 2011, 3:22 p.m.
UI Students Sues Over Gun Rights
The University of Idaho is being sued by one of its law students who claims he should have the right to keep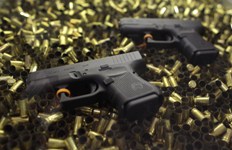 firearms in his on-campus apartment. Aaron Tribble, a second-year law student at the UI, is representing himself in the suit, which he filed last Tuesday in Latah County Second District Court. Tribble, 36, and his family live in one of the university's South Hill Vista apartments for married students and students with children. He claims the UI's policy banning firearms from campus — and by extension, his current place of residence — is a violation of his Second Amendment right to bear arms and his 14th Amendment right to due process/Moscow-Pullman Daily News. More here. (AP file photo, for illustrative purposes)
Question: Would you want your child going to the University of Idaho, if students are allowed to keep arms in their campus rooms?
---
---