Wed., Jan. 26, 2011, 8:25 a.m.
Gazette Raps SR For Police Stand
Under this year's version of the proposed legislation, tribal cops would not be accountable to the sheriff n or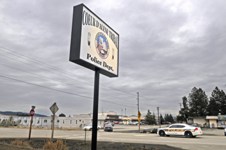 any other elected official. Which is why the Spokane newspaper's endorsement of this proposal is so mind-boggling. One would think the people who write editorials at the region's dominant newspaper would understand better than anyone how critical it is that cops be accountable to voters. Cops and their misdeeds (perceived or real) have been the dominant story of the last five years in Spokane County/Dan Hammes, St. Maries Gazette Record. More here.
Question: What do you think of the point made by Publisher Dan Hammes of the St. Maries newspaper that tribal police must be accountable to someone under a cross-deputization program?
---
---