WEDNESDAY, JAN. 26, 2011, 12:15 P.M.
High Noon: Betty White Hearts AARP
AARP today announced that it will begin working with actress and pop culture darling Betty White in 2011. The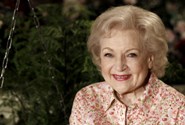 announcement was made via video message by Ms. White herself earlier today in front of more than 2,000 AARP employees at an AARP all-staff meeting in Washington, DC. "Some of you may be wondering why I've signed on to work with AARP. Mostly, it's because I've been promised a giant membership card. No, no – I'm just kidding," said White. "It's really because it took over 500,000 people on FaceBook to get me on SNL. Imagine what I'm gonna be able to do with the millions of AARP members!"/AARP Press Center. More here.
Question: I've never signed up for AARP. Don't take senior discounts in most instances, either. Can anyone tell me what the benefits are re: being a member of AARP?
---
---