Thu., Jan. 27, 2011, 5:15 p.m.
Masses Overrate Gonzaga Law School
Here's a riddle for you: What do you get when you crowdsource law school rankings? A highly suspect list.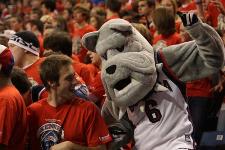 Now, what do you get when you compare that list against the US News peer poll — wherein schools are rated by professors and law professionals and people who have a good chance of knowing what they're talking about? Schadenfreude. When you put the numbers side-by-side, our very own Gonzaga School of Law is the 6th most over-rated law school in America. Ranked 87th-best by the hoi polloi, their peers put them closer to 108th. Almost as over-rated as their men's basketball team was at the beginning of the season/Luke Baumgarten, Inlander. More here. (Inlander photo)
Question: Do you think Gonzaga's law school is overrated?
---
---