Fri., Jan. 28, 2011, 9:52 a.m.
Bleacher Report: Enderle For Real
Cam Newton has the mobility. Ryan Mallett has the arm. Blaine Gabbert has the size. Jake Locker has the grit.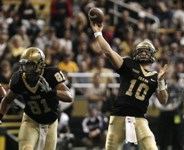 Jerrod Johnson makes a Pop Warner quarterback think he could succeed as a college quarterback. What if I told you there's a quarterback who could wind up being better than all of them? From the great state of Idaho that brings you potatoes and, uh, potatoes, comes University of Idaho Vandal quarterback Nathan Enderle. Those who choose to just look at statistics may write him off, but upon further inspection, there is a lot to like/Alex Kozora, Bleacher Report. More here. (AP file report)
Question: Are you optimistic that Idaho Vandal QB Nathan Enderle will make an NFL roster in 2011?
---
---