FRIDAY, JAN. 28, 2011, 9:59 A.M.
Edinger Supports McEuen Vote, Too?
Update: Councilman Edinger verified most of the OpenCDA.com post. See my comment below.
OpenCDA.com has posted an item in which the author (Dan Gookin?) reports on a speech by Mary Souza at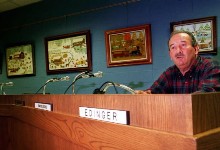 the Reagan Republicans Thursday afternoon. Souza maintained that the public should have a vote on any significant changes proposed for McEuen Field. No surprise there. But the post goes on to say that Councilman Ron Edinger in the audience agreed with her. Quoth: "During the meeting, Ron spoke for the need of a public vote. Like other big issues in town, such as the hydroplane races or Hagadone's memorial garden, the McEuen project affects almost everyone. The public should have a say, a vote." Then: "After the meeting, Ron pulled me aside. He told me that he sincerely wanted to be on Team McEuen, but was turned down. Ron explained that he'd been told he wouldn't be a good mix." You can read the entire post here.
Question: Do you think a public vote would doom chances for any change to McEuen Field?
---
---