Mon., Jan. 31, 2011, 9:23 a.m.
SpoCOOL Reviews Chiludo's, Aryans
Mark Salmon, of SpoCOOL, checked out El Chiludo's at 3000 Government Way, to see why the Mexican food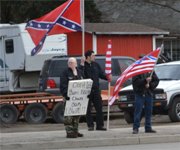 stand was giving picketing local neo-Nazis such heartburn: "The result of our research: They were, in fact, neo-Nazi-Jackasses. I suppose the Jackass-signs they were carrying around had already given them away, though it's probably transparent that we just wanted to try Chiludo's tacos. In that sense the Jackass-picketing backfired, seeing how it's now bringing Chiludo's—a truck we weren't aware of—customers. Which they deserve. This is not a bad little taco truck. Their lengua—beef tongues—might be the best in the region, in fact. They're nicely tender, great texture, and have a good flavor to them, with some nice subtle seasoning. Definitely a hit." (Courtesy photo: Stebbijo's Place)
Question: Has the picketing by neo-Nazis of the two Mexican food stands off Appleway (Taco Works is at Best & 6th, next to Lyle's) backfired? It seems as though the pickets are bringing customers to the stands.
---
---