Wed., July 6, 2011, 8:54 a.m.
Casey Anthony Could Go Free Soon
Jurors aren't talking. Prosecutors are stunned that they lost. Defense attorneys are lashing out at the media.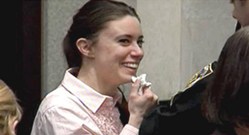 And Casey Anthony could be free by the weekend. A case that involved years of forensic investigation, weeks of often highly technical testimony and untold hours of media analysis turned out to be a quick decision for the jurors weighing whether Anthony killed her toddler daughter. Early in their second day of deliberations, the 12 men and women concluded Tuesday the 25-year-old lied to investigators but wasn't guilty in her child's death. Now Anthony waits to learn if she could spend her first night out of jail in almost three years since she was first accused in the case/Associated Press. More here. (AP file photo)
Question: Any predictions re: what will become of Casey Anthony once she's free again?
---
---