Wed., July 6, 2011, 1:27 p.m.
Kerri: Crashing On The Hiawatha
So off we went, our party of 10, including two little ones in a tow-behind on their dad's bike. The 13-mile (Route of the Hiawatha) adventure at 4,160-foot elevation started by riding into the 1.6 mile Taft Tunnel, which burrows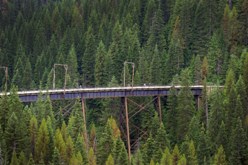 under the Bitterroot Mountain range, straddling the Idaho/Montana border. I knew immediately that this was going to be way outside my comfort zone.Within about five minutes I was so disoriented by the pitch black tunnel, lit only by our bicycle headlights, I had to get off and walk my bike the rest of the way. Euphoric at making it out of the tunnel and at the incredible scenery unfolding along the trail, I couldn't resist taking a photograph of Bert as we pedaled the slight downhill slope. Bad mistake. In the blink of an eye I lost control of my bike, clipped Bert's rear tire and luckily didn't send one or both of us careening over the sheer drop off just a few feet away/Kerri Thoreson, Main Street. More here. (SR file photo)
Question: Describe your worst bike accident?
---
---