Fri., July 8, 2011, 9:27 a.m.
'Survivor' Cast Call Today At Casino
Hundreds of people are expected to try to outwit, outplay and outlast their competitors today when they turn out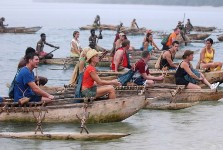 for an open casting call at the Northern Quest Casino and Resort for the reality CBS show "Survivor." 100 people will strut their stuff for Survivor producers Friday night. Producers say they want people who are strong-willed, outgoing, adventurous, physically and mentally adept, are able to adapt to new environments and who have interesting lifestyles, backgrounds and personalities. Starting at 11 a.m. Friday crews will distribute raffle tickets to everyone in line at Northern Quest/Tove Tupper, KREM. More here. (AP file photo: "Survivor Vanuatu" competitors begin season)
Question: Do you have what it takes to be a competitor on the reality CBS show "Survivor"?
---
---