Diector: Where Would Fresh Start Go?
Howard Martinson has a question for the city of Coeur d'Alene. If Fresh Start, the homeless center of which he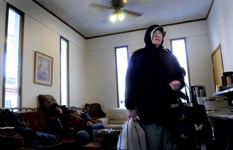 is executive director, was forced to move and ended up closing, where would its clients go? Where would they shower, use the bathroom or make a phone call? The library, maybe, or perhaps the fire station or one of the city's parks. "I don't know," the executive director said. What he does know is that last year, Fresh Start served nearly 3,000 different people, saw more than 15,000 visits and provided more than 44,000 services/Bill Buley, Coeur d'Alene Press. More here. (SR file photo, of a woman who'd been staying at Fresh Start after heat went out in a friend's trailer)
Question: Would you want Fresh Start in your neighborhood?
---
---