TUESDAY, JULY 12, 2011, 4:15 P.M.
Get Out! Review: Ugly Fish
The Ugly Fish menu is like a coffee-table art book, pages and pages of kaleidoscopic food pornography, wild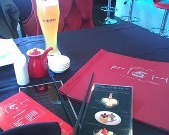 fonts and playful layouts, all bound together with a thick textured maroon rubber cover. Those things are big and heavy, like a deluxe-edition Japanese import KISS triple live LP on 180 gram vinyl. There are so many items on the menu, it's a bit mentally exhausting with the weight of possibility. In fact, everything on the menu has an item number attached to it, and in full there are around 150 choices to make/OrangeTV, Get Out! North Idaho. More here.
Question: Anyone add any thoughts re: your dining experience at the Ugly Fish?
---
---