Wed., July 13, 2011, 9 a.m.
Corps: Cut Trees Along NIC Road
The U.S. Army Corps of Engineers is calling for the city of Coeur d'Alene to remove hundreds of trees from its levee, which separates North Idaho College and the Fort Grounds neighborhood from Lake Coeur d'Alene.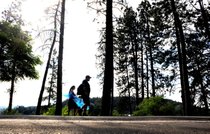 Rosenberry Drive, otherwise known as the "dike road," draws thousands of people year-round as a place to park when headed to the college or the beach or events like Art on the Green. A section of North Idaho's Centennial Trail also stretches along the road and is popular with walkers, joggers and bicyclists. "I don't think anybody in our community is going to be thrilled about removing 500 trees," said Coeur d'Alene Mayor Sandi Bloem. "Obviously, we're going to try to find a solution other than that." Bloem said city officials are reviewing the Army Corps report and looking for alternatives/Alison Boggs, SR. More here. (SR photo/Kathy Plonka: "I can't believe they would even think about removing these trees," said Daryl Rise as he walked with Cristy Hodgkins on the dike road Tuesday at North Idaho College.)
Question: How should the city of Coeur d'Alene handle the Corps of Engineers demand?
---
---