Wed., July 13, 2011, 8:17 a.m.
McGee Thwarts Canyon GOP Inquiry
Sen. John McGee on Tuesday headed off a vote by the Canyon County GOP Central Committee on a resolution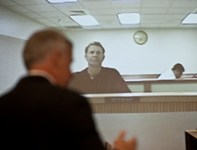 calling for an investigation of his "drunken actions" and a vote next month on whether he should be dismissed as county chairman. Ronalee Linsenmann of Nampa protested McGee's decision to send her resolution to the 11-member executive committee he chairs for review. McGee acknowledged party rules don't specify that resolutions be vetted by the committee first but said that's been the tradition for nine years. "That's the decision of the chairman and that's unappealable," McGee, R-Caldwell, told a standing-room-only crowd of 100 at the county courthouse/Dan Popkey, Idaho Statesman. More here. (AP file photo: Sen. McGee is arraigned June 20 via video)
Question: Is McGee digging himself a deeper hole?
---
---