Thu., July 14, 2011, 8:51 a.m.
Final Count: Andrus $85M, Otter 0
It's been 16 years since Cecil Andrus (pictured in SR file photo) left the governor's office. Sixteen years since Andrus kept a constant watch on the state economy and the tax-generating machinery. For the last five years, Gov. C. L. (Butch) Otter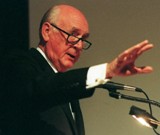 has been working full time studying revenues, considering budgets and watching the economy. Yet Andrus remains better at it. As evidence, he just collected $100 of Otter's money. Andrus bet Otter that the governor and the GOP Legislature essentially low-balled projected tax collections more than a year ago -- thereby needlessly cutting schools and government programs. Andrus bet on former Chief Economist Mike Ferguson's projection that the state would clear $2.43 billion. Otter stuck with his view that Ferguson's number was $143.4 million too high. Otter bet he and the GOP legislative majority knew more than the economist. Turns out Ferguson was right on the money/Marty Trillhaase, Lewiston Tribune. More here.
Question: Who would you rather have sitting in the governor's office today -- Butch Otter or Cecil Andrus?
---
---