Thu., July 14, 2011, 3:24 p.m.
Missing: 2 Large Earthworms
The Discovery Playground in Spokane Valley appears to be as popular with vandals as it is with children.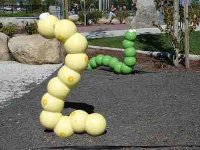 Parks and Recreation staff noticed yesterday that one of two larger-than-life inchworms in the Secret Garden area of the playground had been stolen (the yellow one) and the other damaged. The city is sounding the alarm and is asking that anyone with information on the whereabouts of the inchworm call Crime Check at 456-2233. Last year a giant rainbow trout was wrenched out of the concrete, but not stolen. It hasn't yet been put back as staff search for a permanent way to install it so it can't be removed again. Also last year three giant fiberglass Eagle eggs were torn out of the ground and stolen/Nina Culver, Spokane Valley Blog. More here.
Question: What could a person do with a larger-than-life inchworm, like the ones above?
---
---