Fri., July 15, 2011, 8:22 a.m.
Overcoming A Abusive, Racist Father
Kelty Walker grew up in an isolated trailer house in the woods outside Blanchard, Idaho. "We took five dirt roads to get to the trailer," she said. "It was out there." And in that trailer, her father did all he could to block out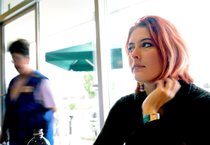 the world. Kelty and her sister barely left the house. On rare trips to town, they had to wait in the car or stay within three feet of their dad. They never attended school. No one came over. Their mother left to work in town and their father schooled them in the things he thought were important: calculus and the supremacy of white people. Kelty would read anthologies of English literature and American literature – "He'd tear out all the pages about the Civil War" – and the volumes of the 1911 Encyclopedia Britannica. If she disobeyed her father – or if he just thought she had – he'd become violent. He was careful not to leave a bruise. The house was full of guns, and her father prepared them for the day when armed foes would arrive/Shawn Vestal, SR. More here.
Question: Do you know someone who has overcome an abusive parent to prosper in life?
---
---