Sat., July 16, 2011, 6:15 a.m.
Hayden Library Patron Faces $2587 Fine
A Hayden Library patron with either a voracious appetite for reading or an insatiable need for information now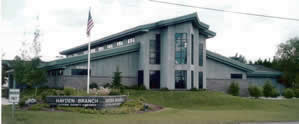 faces some hefty overdue book fines. A grand theft charge might also await in the next chapter. Library director John Hartung reported Wednesday that a patron had checked out 124 books over a three-day period in May, the Kootenai County Sheriff's Department says. The individual, whose identity was not released by the sheriff's department, failed to return the books when they were due in mid-June. According to the report, the patron did not respond to letters sent by the library/Coeur d'Alene Press. More here.
Question: I'm a little at a loss re: why the Hayden Library allowed one person to check out 124 books over 3 days. How about you? Is the library partly to blame for this situation?
---
---