MONDAY, JULY 18, 2011, 8:48 A.M.
Hanging With A Coed At Priest Lake
Somewhere between "Ferris Bueller's Day Off" in 1986 and Priest Lake in 2011, actor Ben Stein (boring economics teacher in "Bueller") got sexy. At least, that's the opinion of a coed Stein encountered during a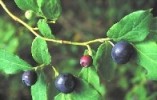 recent North Idaho vacay with "pals" Ray and Jeannie Lucia and Jo and Susan Lucia. After touring Upper Priest Lake, Stein and the Lucias returned to Hill's Resort, where Stein keeps his boat. Hundreds of college students greeted Stein, chanting: "Clear Eyes" and "Bueller, Bueller." Then, Stein explains in an American Spectator column, "A pretty girl with an amazing tan and tattoos on her side just below her bikini top came up to me and whispered urgently, 'I think you are sooo sexy. Can we hang out later tonight?' " She hugged Stein and was photographed with him, as the actor declined her invite, protesting weakly that he was "a fat old man"/DFO, Hucks Online. More here.
Question: Ben Stein will be forever remember as the boring Economics Instructor in "Forest Bueller's Day Off." Looking back at your life ... what will you best be remembered for?
---
---