Wed., July 20, 2011, 4 p.m.
Crapo & Gang Forge Compromise
Idaho Republican Sen. Mike Crapo and five other senators unveiled their $4 trillion bipartisan deficit-reduction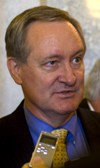 plan Tuesday to praise, if not immediate support, from both President Barack Obama and a number of senators from both parties. The so-called Gang of Six proposes to immediately cut $500 billion out of the federal budget, impose spending caps on federal agencies and eliminate many tax breaks in exchange for reduced income tax rates and dropping the $1.7 trillion alternative minimum tax — along the same lines of the 1986 tax reform measure signed into law by President Ronald Reagan. The deal calls for cuts to everything from Social Security and Medicare spending to the Pentagon, and eliminates $1 trillion in tax breaks over the next 10 years/Rocky Barker, Idaho Statesman. More here.
Question: Are you impressed that Idaho's U.S. Sen. Mike Crapo is one of the Gang of 6 that's trying to lead Congress & President Obama out of debt ceiling wilderness?
---
---