Thu., July 21, 2011, 1:17 p.m.
Streaker Stuns Sun Valley Ice Shows
The Sun Valley Ice Shows are widely known as a showcase for the art, comedy and drama of ice-skating. The summer shows feature world-class figure skaters and Olympic medalists under the stars behind the Sun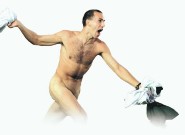 Valley Lodge. An unexpected participant took to the ice during Saturday's evening performance, wearing only flip-flops and a grin. "It made everyone's jaws drop," said Ice Show Director Scott Irvine. Some kids were heard asking if the streaker was part of the ice show. Other kids called the display "disgusting." "Obviously, we do not think this is an appropriate activity at an ice show," said Jack Sibbach, director of marketing and public relations for Sun Valley Co./Tony Evans, Idaho Mountain Express. More here. (AP file photo of a UCLA streaker, for illustrative purposes)
Question: Have you ever been present at an event where someone streaked?
---
---