Sat., July 23, 2011, 6:07 a.m.
Dogwalk: Politicians & Pesky Religion
Michele Bachmann is a headache! Maybe even a migraine. She certainly creates, in me, as per possible side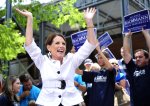 effects of a migraine, a degree of nausea and (a) disturbed vision! Now, it seems she has left her church. She is ~ was ~ Lutheran. After having belonged to the church for at least ten years even if she hasn't attended, in favor of another, for the last two. It seems, after all those years, she finds herself questioning the Lutherans stand on the Pope and the Catholic view of how one attains salvation. I left the church when I was in college for a number of reasons, not the least being witness to this doctrine being preached from the pulpit to numerous in the congregation from other countries and religions. I thought it showed an insensitivity to those exploring various religions, including Catholicism/Dogwalk Musings. More here. (AP photo of Bachmann in Aiken, S.C., this week)
Question (for former church goers who no longer attend church of any kind): What was the deal breaker that caused you to quit going to church?
---
---