Mon., July 25, 2011, 9:55 a.m.
Hydromaniacs Pushing For Races
Item: It takes a community: Hughes believes hydroplane racing could again be popular on Lake Coeur d'Alene/Alecia Warren, CdA Press
More Info: Doug Miller agrees. President of the Hydromaniacs nonprofit, Miller is in the midst of trying to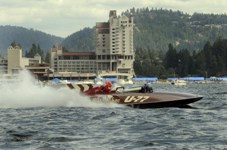 resurrect the annual Diamond Cup Unlimited Regatta that the Lake City hosted annually in the late '50s and '60s. After organizing a revival regatta last year, Miller is planning a second regatta for this August. Although the regatta is only an exhibition of vintage Unlimited boats, Miller still holds Madison's fervor for hydroplane racing as a role model for Coeur d'Alene, he said. (SR file photo of hydroplane exhibition run by J. Bart Rayniak)
Question: Is Coeur d'Alene finally ready to embrace hydroplane races again?
---
---