Tue., July 26, 2011, 5:15 p.m.
Jews, Hindus, Buddhists Laud CdA
The Jews, Buddhists and Hindus have applauded the City of Coeur d'Alene (Idaho, USA) for the public display of 'Ganesha' sculpture in its downtown. "The City of Coeur d'Alene and its Arts Commission should be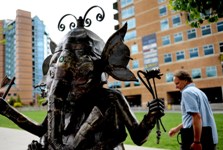 commended for their strength and inclusive attitude in displaying the 'Ganesha' sculpture along with 14 others in downtown as a part of 'ArtCurrents', its public art display program," Rabbi Jonathan B. Freirich, the prominent Jewish leader in North Carolina (USA), said in a statement. "Ganesha may not be as sacred to us as it is to our Hindu friends, but we still welcome its addition as an integration of a wider range of public art into the community and an enhancement of the overall appeal of an urban area," he added/Newstrack India. More here. (SR file photo by Kathy Plonka, of controversial Ganesha artwork in downtown Coeur d'Alene)
Reaction?
---
---