Wed., July 27, 2011, 1:56 p.m.
Boehner: 'Get Your Ass In Line'
House Speaker John Boehner (pictured in AP file photo) leveled tough words at fellow Republicans Wednesday, telling conservatives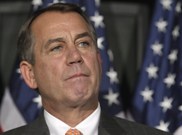 who are unhappy his bill doesn't go far enough to "Get your ass in line." Boehner's admonishment came during a closed-door meeting, during which House GOP leaders sought to rally support for their debt bill, according to two Republican sources who attended the meeting. The Ohio Republican told members he was working hard and didn't want to turn around and not see an army behind him. House Majority Leader Rep. Eric Cantor of Virginia also said it was time to pull together and pass the House GOP debt bill, instead of feeding a storyline that pits Republican against Republican/Deirdre Walsh, CNN. More here.
Question: Will Boehner and mainstream Republicans be able to keep Tea Party Republicans in line long enough to forge a debt-ceiling compromise?
---
---