Wed., July 27, 2011, 9:20 a.m.
Sandpoint Dealing For Own 'Tubbs Hill'
Just a short stroll from downtown Sandpoint, a dirt trail follows Lake Pend Oreille's shoreline past groves of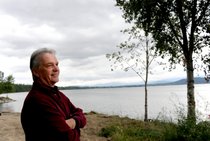 leafy cottonwoods that block out the sights and sounds of the bustling resort town. Instead of traffic, trail users hear lapping waves and the musical cadence of song sparrows. To the east, they can watch storm clouds gathering over the Cabinet Mountains. The privately owned trail is one of Sandpoint's best kept secrets. But through a $1.6 million deal negotiated with the heirs of the late Sandpoint photographer Ross Hall, local cities and a nonprofit group hope to secure almost a mile of the undeveloped shoreline for public use/Becky Kramer, SR. More here. (SR photo by Kathy Plonka: Dann Hall, son of the late Ross Hall, talks about his family's waterfront property)
Reaction?
---
---