Thu., July 28, 2011, 5:02 p.m.
Dogwalk: Pelosi To The Rescue!
The current debt ceiling/deficit debate going on is important to be sure. I've been doing a lot of ranting and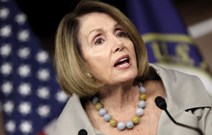 raving about it for days now. I must thank the former speaker, however, for adding some much needed levity with the comment, "What we're trying to do is save the world from the Republican budget . . . We're trying to save life on this planet as we know it today." Oh, don't I wish! I wonder if she has a clue how idiotic that sounds. It's right up there with her comment when health care passed; she said we could then all read it and find out what was in it! To think this woman is one of the most powerful in the country/Dogwalk Musings. More here. (AP file photo)
Question: Which statement made by one of the congressional partisans re: the debt ceiling showdown do you consider the silliest?
---
---