Wed., June 1, 2011, 9 a.m.
Stewart Responds To Press Editorial
It is with no anger or retribution that I share with all of you my grief over the setback this editorial could do to the advancement of human rights. I know from a life time of commitment to this cause that the peddlers of hate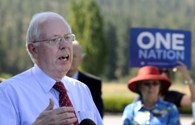 would like nothing better than have human rights organizations and activists become silent. As long as God gives me the strength to be active, I will not remain silent. Today I did a silent prayer asking God to give me the strength, wisdom and kindness in making the proper response. I find no examples in history that silence resulted in a victory over the forces of prejudice, bigotry or the eradication of hate. The conservative columnist for the Washington Post, Kathleen Parker, stated it most eloquently in her column when she wrote: "When you choose to remain silent, consider yourself complicit in whatever transpires"/Tony Stewart, Kootenai County Task Force on Human Relations. More here.
Reaction?
---
---