Mon., June 6, 2011, 5:34 p.m.
OTV Review: Atilano's Mexican Food
The exterior is nice enough, with a splashy new yellow and red paint job screaming "we're authentic!", but open the door and walk inside and certain thoughts occur. Who broke into this poor old KFC, stole all the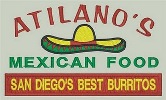 decor, then spray-painted over all the logos with a can of red spray paint? Was it a mad electrician with a fetish for exposed wires? (There are literally open outlet boxes with wires sticking out of the walls in several spots.) Can I still get a "famous" fried chicken, corn and mashed potato bowl and a side biscuit and coleslaw? Other than the employees, the only hint of old Mexico was the tejano music floating through lightly the air, and frankly, the place could use some serious sprucework and love on several levels/OrangeTV, Get Out! North Idaho. More here.
Question: Do you plan to visit Atilan's Mexican Food (old KFC building on Appleway) within the month?
---
---