TUESDAY, JUNE 7, 2011, 1:10 P.M.
Man Faces Court Over Aluminum Foil
A Spokane man is standing trial this week for allegedly stealing a single piece of aluminum foil from a north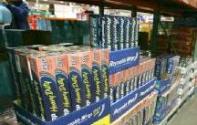 side pharmacy.The aluminum foil is worth about a nickel, which would have made David Hickam's charge a simple shoplifting charge, but when he fought with a loss prevention officer, it upped the ante on his arrest.Police say Hickam, 26, went into a Rite-Aid pharmacy, picked up a box of aluminum foil, tore out a sheet, stuffed it in his pocket and walked out of the store. A security guard who had watched the alleged theft on a video camera confronted Hickam outside the store/Jeff Humphrey, KXLY. More here.' (KXLY photo)
Question: Who's more ridiculous here -- the pharmacy who is pushing the shoplifting case or Hickam who fought a security guard over a sheet of aluminum foil?
---
---