Tue., June 7, 2011, 10:53 a.m.
Route Of Hiawatha Opens Saturday
Pump up the bike tires and grab your helmet - one of the Inland Northwest's favorite trail rides, the Route of the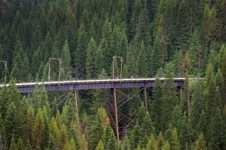 Hiawatha, opens Saturday! The June 11th opening actually marks a delay in the trail's typical season. The route usually opens from May to September, but the cool spring and heavy snowfall delayed the opening. Crews from Lookout Pass, which operates the trail, have been clearing the snow from the trailhead's highest peak to get ready for this weekend. Route of the Hiawatha follows the old Milwaukee Railroad grade between the old town site of Taft, Montana and the North Fork of the St. Joe River near Avery, Idaho. USA Today recently named it one of the top rail-to-trail adventures in the country/Melissa Luck, KXLY. More here. (SR file photo: Christopher Anderson)
Question: Have you ridden the Route of the Hiawatha? Would you recommend it to other bicyclists?
---
---