Thu., June 9, 2011, 8:13 a.m.
CST's 'Wizard of Oz' Opens Tonight
This show has a Tin Man, a Scarecrow and a Cowardly Lion. It has a 19-piece orchestra playing classic Harold Arlen-Yip Harburg songs, including "Somewhere Over the Rainbow." It has a flying Wicked Witch who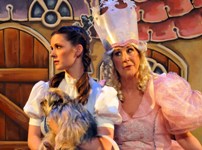 is – no doubt about it – 100 percent evil. It is, in no way, a prequel, a sequel, a retelling or a reimagining. In other words, the Coeur d'Alene Summer Theatre's "The Wizard of Oz" is a faithful stage version of the classic 1939 MGM movie, from its head all the way down to its Toto(s). It has all of the charms and even most of the dialogue of the movie. And that came as a pleasant surprise to Margaret Travolta, who plays both Glinda (the Good Witch) and Auntie Em/Jim Kershner, SR. More here. (SR photo/Jesse Tinsley: Margaret Travolta (right) plays Glinda the Good Witch while Mallory McKooney-King plays Dorothy)
Question: Have you ever read Frank Baum's "Wizard of Oz" or any of the other Oz books?
---
---