Phil Hart Appeals To Supreme Court
Tax-protesting state Rep. Phil Hart is taking his fight against having to pay past-due state income taxes to the Idaho Supreme Court, despite already having lost four appeals. Hart, R-Athol, lost his fourth round in March,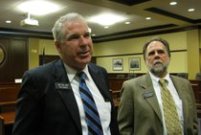 when 1st District Judge John Mitchell refused to reconsider a December 2010 decision tossing out the appeal. In a 13-page decision, the judge twice termed Hart's arguments "simply wrong," and called his central argument – that he'd actually filed his appeal one day earlier than the state says – "patently wrong." Hart, whose first court appeal in November 2010 charged that the state income tax is unconstitutional, also is arguing that he should have months longer to appeal his taxes than other citizens because of his status as an Idaho state legislator/Betsy Russell, Eye On Boise. More here.
Reaction?
---
---