Fri., June 10, 2011, 10:53 a.m.
Black Pilgrims Upset Constitution Party
Before the Kootenai County Constitution Party was offended by the public art depicting Hindu god Ganesha on Sherman Avenue, it got ticked off by a Coeur d'Alene Public Library Thanksgiving display. Which showed some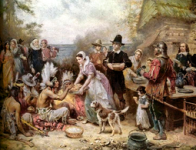 of the Pilgrims as African-Americans. Here's part of a letter that Justin Cottrell of the Constitution Party sent to library Director Betty Ammon on Oct. 1, 2009: "On a recent trip with my family to the Coeur d'Alene Library I took notice of the festive holiday kiosk in the children's section of the library. However in enjoying the vivid array of color, I was shocked and disappointed when my family and I came to the display on Thanksgiving. While the display was full of fall colors and traditional harvest related items, the portrayal of the Pilgrim's race is in obvious error. Even by the most liberal accounts of the Puritan Thanksgiving, of which our holiday is based off of, none suggest anything other than the Pilgrims were European in their lineage." More here. (Wikipedia photo: "The First Thanksgiving" by Jean Louis Gerome Ferris)
Question: Do you suppose the Native Americans who helped saved the Pilgrims wereof European descent, too?
---
---