Fri., June 10, 2011, 5:05 p.m.
CdA Ganesha Flap Reaches India
Seems the flap created by the Kootenai County Constitution Party has reached India. A story in DailyIndia.com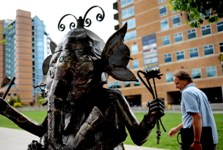 reports: "Hindus have welcomed Lord Ganesha sculpture as a part of Coeur d'Alene (Idaho, USA) public art display. Applauding the City of Coeur d'Alene for this gesture, Hindu statesman Rajan Zed, in a statement in Connecticut (USA) today, called it "a step in the right direction". Rajan Zed, who is President of Universal Society of Hinduism, said that this public display of Lord Ganesha would bring more inclusivity in religion and help create a unity that celebrated diversity. Moreover, Ganesha's presence is always considered auspicious, Zed adds. More here. (SR photo: Kathy Plonka)
Question: Are you surprised by the attention this controversy has received -- now reaching as far as India?
---
---