Fri., June 10, 2011, 8:42 a.m.
Hindu God Statue Draws CdA Critics
Members of the Kootenai County Constitution Party are planning to protest today the dedication in Coeur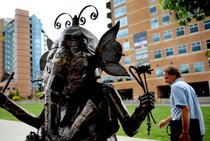 d'Alene of a public artwork sculpture of the Hindu god Ganesha – a four-armed being with an elephant head. A posting on the party's website encourages Christians to protest the artwork, calling it an "abomination" approved by the "godless group of individuals" who manage the city's public art program. Though the protest is not a party function, it's supported by many party members, who believe only Christianity provides a world view "consistent with the framing of our Republic," said party Chairman Daniel Brannan/Alison Boggs, SR. More here. (SR photo/Kathy Plonka: "Ganesha," by Spokane metal artist Rick Davis, is part of "ArtCurrents," the Coeur d'Alene public art display.)
Question: Do you think this is a good piece of art?
---
---