Fri., June 10, 2011, 9:03 a.m.
No More 'Marcaroni' in New Tito's
The Italian restaurant in Coeur d'Alene has officially chopped the pasta from its name, reinventing itself as the more mature Tito's Italian Grill and Wine Shop. Gone are the white, butcher-paper table coverings, crayons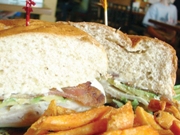 and the selfserve bottle of wine reminiscent of Tomato Street. In their place are real tablecloths, candles and a wine shop with 125 labels at any given time. Wine prices are grocery-store level. The majority of bottles are under $20, and there's a handful under $10. But there's a catch. Our 14 Hands Cabernet Sauvignon was $6 per glass, and only $9 per bottle, but every bottle on the menu comes from the on-premises wine shop, and so a $6 corkage fee applies. Still, figuring you get four glasses per bottle (we could have taken the rest with us), buying by the bottle still made more sense/Carrie Scozzaro, Inlander. More here.
Question: Anyone try out new Tito's yet? Reaction?
---
---