Mon., June 20, 2011, 9:55 a.m.
McGee Thought He Saw An Angel
Tracey Carleton said her two teenage sons woke her up about 2 a.m. Sunday, saying a drunk man (identified as Idaho state Sen. John McGee) had jack-knifed the neighbor's Ford Excursion and a 20-foot trailer in their large south Boise yard. The man had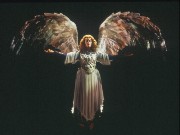 wandered around the property, up and down the road and eventually went to sleep in the vehicle's back seat. Another vehicle and trailer on the Carleton's property were damaged along with the neighbor's Excursion and trailer, she said. Carleton said her husband, Joe, a volunteer chaplain at the Ada County Jail, went outside to speak with the barefooted man, who said he was looking for the "promised land." When he saw Tracey Carleton in her white bathrobe on the front porch, he said, "Look there's an angel," she said. Then the Carletons called police/Kathleen Kreller, Idaho Statesman. More here. (AP file photo) H/T: Sisyphus
Question: Have you ever been so drunk that you saw angels?
---
---