Mon., June 20, 2011, 3:31 p.m.
OTV Review: Dangerous Dog
As I sit here typing, I am currently in a haze of hot dog bliss after consuming a divine Dangerous Dog lunch consisting of the #7, the All Cheese Dog. Cheddar, Monterey Jack, Mozzarella, Cotija cheese, and whole grain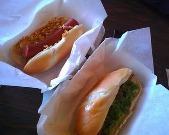 mustard all layered nice and thick on a plump wiener on an intensely fresh-baked bun that was soft and doughy on the outside and crispy golden in the center. It was a fantastic way to spend my lunch break and very well worth every penny of the $4 i put into it. Cheese nirvana! Today was actually my third experience with the Dangerous Dog, and like cheap no-prescription narcotics mail-ordered surreptitiously from overseas, I'm totally hooked. These folks do wonderful, creative things with the blank canvas of a hot dog, and really, downtown Coeur d'Alene kinda got a few notches groovier overall when they decided to open up their doors/OrangeTV, Get Out! North Idaho. More here.
Question: How do you best like your hot dog prepared?
---
---