Tue., June 21, 2011, 4 p.m.
Aardsman Brings M's To Tweeple
Ever wonder what the showers look like inside the Seattle Mariners' clubhouse? Mariners closer David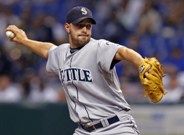 Aardsma tweeted a photo a few weeks ago. Want to see the view from the Safeco Field roof? Aardsma is working on that. Aardsma, 140 characters at a time via Twitter, is bonding with fans this season in ways he never imagined thanks to the link that form of social media provides. He has answered fans' questions, shown them photos, asked for advice himself and generally provided insight into life as a major leaguer/Kirby Arnold, Everett Herald. More here. (AP file photo)
Question: Do you follow any famous people on Twitter?
---
---