Tue., June 21, 2011, 1:22 p.m.
Religion Finds Home At Rodeo
The sounds of cowboy gospel music and the faint smell of manure wafted down to the door of the Central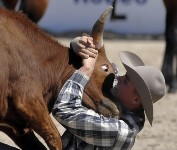 Wyoming Fairgrounds' indoor arena on Saturday. Corey Ross, a preacher from Texas, stood before men in cowboy hats and women wearing large belt buckles. As he began to sing about God's grace, his voice broke through the murmur of stock calves shuffling just a few rows below him in the large arena. In the crowd, some dressed in their country best in preparation for the night's championship go of the College National Finals Rodeo, while others wore simple T-shirts and sun-bleached baseball caps. They clapped along with Ross' folksy tune before sitting down, their eyes trained on the singing preacher man/Amy Huddleston, Twin Falls Times-News. More here. (Idaho Press Tribune file photo of high school rodeo in Caldwell)
Question: Do you mind when an athlete uses the podium provided by his/her sport to share his/her faith?
---
---